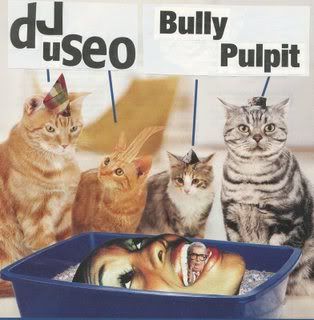 Some more mashup classics from the past.
Not sure if all of these mixers still post.
Check out these tracks,most from 2004/5.
DJ Useo
Bully Pulpit (Mashup Mix)(1:03:09)
------------
01-Neutron Disco (DJ Mwei-Lwun)
50 Cent vs. Pointer Sisters
02-Wasted Chicks (McSleazy)
Chicks On Speed vs. Kings Of Leon
03-Andrew Fights For His Right To Party
(Tim G) Beastie Boys vs. Andrew W.K.
04-Who the Hell Is Mono (Mark J)
Courtney Love vs. Madison Avenue
05-You Spin Me Right Round Like a Crazy Train
(Aber N Stein) Dead Or Alive vs. Ozzy Osbourne
06-Fuck 'Em Boyo (Miss Frenchie) Clash vs. Peaches
07-Dancing With a Rolling Stone (Eve Massacre)
Billy Idol vs. Temptations
08-Hey We Will Rock Ya (DeNeo Edit Of DJ Prince)
Outkast vs. Queen
09-Let It Be Me (Bavor) Beatles vs.Shaggy
10-Paperback Believer (GHP) Beatles vs.The Monkees
11-Slash 69 (DJ Zebra) Fatboy Slim vs. The Stooges
12-I Like Sexy Love (DJ Cactus) Annie vs. Reel 2 Real
13-Funk Your Body (Poj Masta) Lipps, Inc. vs. LRD
14-Foreplay (Mini Mash Mix) DJ 11
15-Follow the Sexy Superstylin (DJ Cactus)
Eric B. & Rakim vs. Groove Armada & Annie Free
16-Micro Catalogue (Comar) FC Kahuna vs. TTC
17-Sprung Steady (Lockdown)
LL Cool J vs. Aretha Franklin
18-Pleasure and Parsley (Monkfish)
Preacher Rod Parsley vs. Unknown Porn Star
19-Eye Like Big Tiger Butts (Jaapblaatschaap)
Survivor vs. Sir Mix-ALot
20-Romeo Highway (Bangers & Mash)
Basement Jaxx vs. America
21-I Love You (Blo_Up)
Dizzee Rascal vs. 2 Bad Mice
22-Brimful Of Dogs (Mark J)
Cornershop vs. Baha Men
23-Wouldn't It Be Ecstacy (DJ Lance Lockarm)
Beach Boys vs. Spacemen 3
24-Simian-Dalton (DJ Useo) Simian vs Eagles
25-Bang Bang Muleta (Loo & Placido)
Calexico vs. Nancy Sinatra
26-Saxy Bjork (Essex Boy)
Bjork vs. Deep Throat
27-Samba Freak (Mickzmaster)
Adina Howard vs. Ugly Duckling
28-Feel the Changing Pain (Khyzer Zuke)
Dinosaur, Jr. vs. 2Pac
29-Say My Day (Jimmi Jammes)
Green Day vs. Destiny's Child
30-My Ditched a Corn (Jerver73)
White Stripes vs. Gang Of Four
31-Don't Call Me Song 2 (McSleazy)
Blur vs. Madison Avenue
32-Sabotage Your Head (Divide & Kreate)
Beastie Boys vs. Basement Jaxx
----------------------------
Download 1